How has Covid-19 affected job security?
Around 7.6 million jobs, or 24% of the UK workforce, are at the risk because of Covid-19 related lockdowns. People and places with the lowest incomes are the most vulnerable.
The effects of Covid-19 have seen a huge impact on economies around the world.
It was 23rd March 2020, that the UK went into a nationwide lockdown, to control the pandemic. This seems to have helped curb the implications in the public-health crisis, however it has meant a decline on the economy.
It was reported that economic activity (as measured by GDP) was down 30% in May 2020, compared to February 2020 levels. According to the Office of National Statistics, through the weeks of 6th April to 19th April 2020, 23% of businesses had closed or paused trading, with only around 60% of business continued to trade reporting a fall in revenue. It is expected that UK GDP in 2020 will shrink by 9% overall.
With the rapid decline in economy, it has had a huge effect on employment. A staggering 7.6 million jobs are at risk, a term used to describe permanent layoffs, temporary furloughs, and reductions in hours and pay. However, the risks are highly skewed, with people and places with lowest incomes are the most vulnerable to job loss. Around 50% of all the jobs that are at risk are in occupations that earn less than £10 per hour. Some of the subregions that are most at risk include areas such as, Blackpool, Stoke-on-Trent, and Torbay.
The impact on jobs due to lockdown
It was estimated that in the weeks from 6th April to 19th April 2020, around 22% of the UK's working age population, or 9 million people, had been furloughed (see below resource). At that time less than 1% of businesses reported ceasing to trade permanently or having laid off people. However, the implications of lockdown are anticipated to result in significant job losses in the future. Business' ability to continue to employ and pay workers might be particularly precarious when government support begins to withdraw.
The impact hits sectors differently
The statistics on furlough already show how very different sectors have fared. For example, 73% of workers in accommodation and food serviced and 46% of those in construction were furloughed in the first half of April. At the same time, 13% of those in information and communication and, 14% of those in water utilities, had experienced the same fate. See below for a visual representing these findings. Even though most schools, colleges, and universities were closed, most people employed in the educational sector continued to be employed and paid.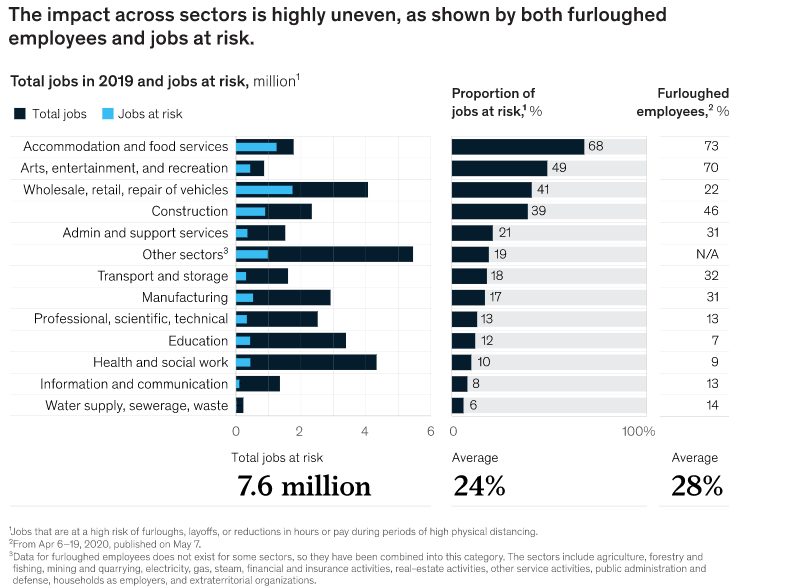 Understandably, jobs at risk and pay are both related to the levels of education. 24% of employees in the hospitality, retail, and construction sectors have a higher-education qualification. Over 50% of workers in each of these sectors do not have qualifications beyond secondary education (GCSE). Between 55% – 70% of people working in information and communication, financial services, or professional services have a degree or higher education qualification. This doesn't however mean that all highly educated people are protected from the risks of lockdown. For example, in the second most affected sector, arts, entertainment and, recreation, 45% of employees have completed higher education.
How can we help
So, if you have been faced with furlough, decreased hours or been laid off, we can help upskill or place you into an Apprenticeship. Many of our learners completing further education-based qualifications have said that it has really boosted their professional opportunities, whilst on average people having completed higher level apprenticeships earn over £150,000 more in their lifetime as opposed to a university graduate.
Over the years we have seen the apprenticeship opportunities bloom and expand, across most sectors, such as Early Years Childcare, Business Services, Fitness, Education, and many more.
We find that matching a person with an apprenticeship is highly rewarding for both the employer and the employee. With on the job practical training, apprentices find their learning of the role/industry is amplified, compared to classroom only based teaching, and provides tangible returns on the investment made by both the learner and employer.
Eden offer qualifications in Childcare, Business, Fitness and Education, with a team of matching officers on hand to assist in placing you in in a vacancy that's most suitable for you.
So, if you have been made redundant or would like to upskill your knowledge and skills, we can help. Whether it's initial advice, matching you with a live vacancy or starting a new qualification, we are on hand to assist you every step of the way.
As we have seen, those with higher education levels are more likely to be a little more secure in their job roles, receive higher pay salaries, and gain great job satisfaction. So, what are you waiting for, lets reach your potential together.